About Us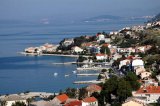 We invite you to Dugi Rat, a charming place on the Adriatic coast between Split and Omis, situated near the Adriatic Highway.
In Dugi Rat you can spend a pleasant and comfortable vacation.
Its beaches are an excellent choice for families with small children.In and around Dugi Rat beaches are mostly pebbled. Famous two, local beach "ispod Zilica" and "Glavica" are pebbled and very popular among local people too.
If you prefer sandy beaches in a small place Duce there are 4 km of beautiful sandy beach, one of the best in Dalmatia.
We offer you accommodation in House "Slavomir" located in Dugi Rat, 80 m from beach, 100 m far away from one of the restaurants and only 50 m from market.
Our house with three bedrooms, lounge and kitchen, two bathrooms, large terrace and garden with mediterean plants and green are ideal for relaxed vacation.
The house has a konoba (small traditional restaurant), vineyards, olive oil trees, large private parking...
The waters of the Brac Channel enable active holidays with numerous sports activities for boaters, windsurfers and water skiers.
Moreover, those who love adventure and climbing can enjoy visiting canyon of the river Cetina, and rafting.
Warm summer nights are ideal for good time to be remembered after the summer vacation. You know the scenario: colorful cocktails, music and dancing till dawn...
For those who prefer a more peaceful type of entertainment with cultural manifestation, we suggest visiting some of the events on "Dugi Rat Summer" and "Omis Cultural Summer", cultural festivals where you can see good theater, exhibitions and recitals.
The vicinity of big Dalmatian towns guarantees a good entertainment for those who want to spend the evening, after resting on a beach, listening to good music.